MuchBetter offers an extra layer of security for online purchases with your MuchBetter card. With our dynamic CVV your card is protected because:
The CVV is not printed on your card for others to see
The CVV changes frequently
In order to obtain your CVV, please go to your MuchBetter app, select "Devices" > "Card" and you will see your MuchBetter card (masked number) and the dynamic CVV will show at the right top corner.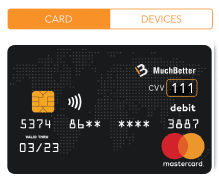 If you require additional information, do not hesitate to contact us. We will be happy to help you!